Let's face it: there was nothing fun about the way we used to shop for mattresses. You faced hundreds of different models in the store with a salesman shadowing your every move. Who knows who laid on the mattress right before you. Who knows how long those mattresses had even been there.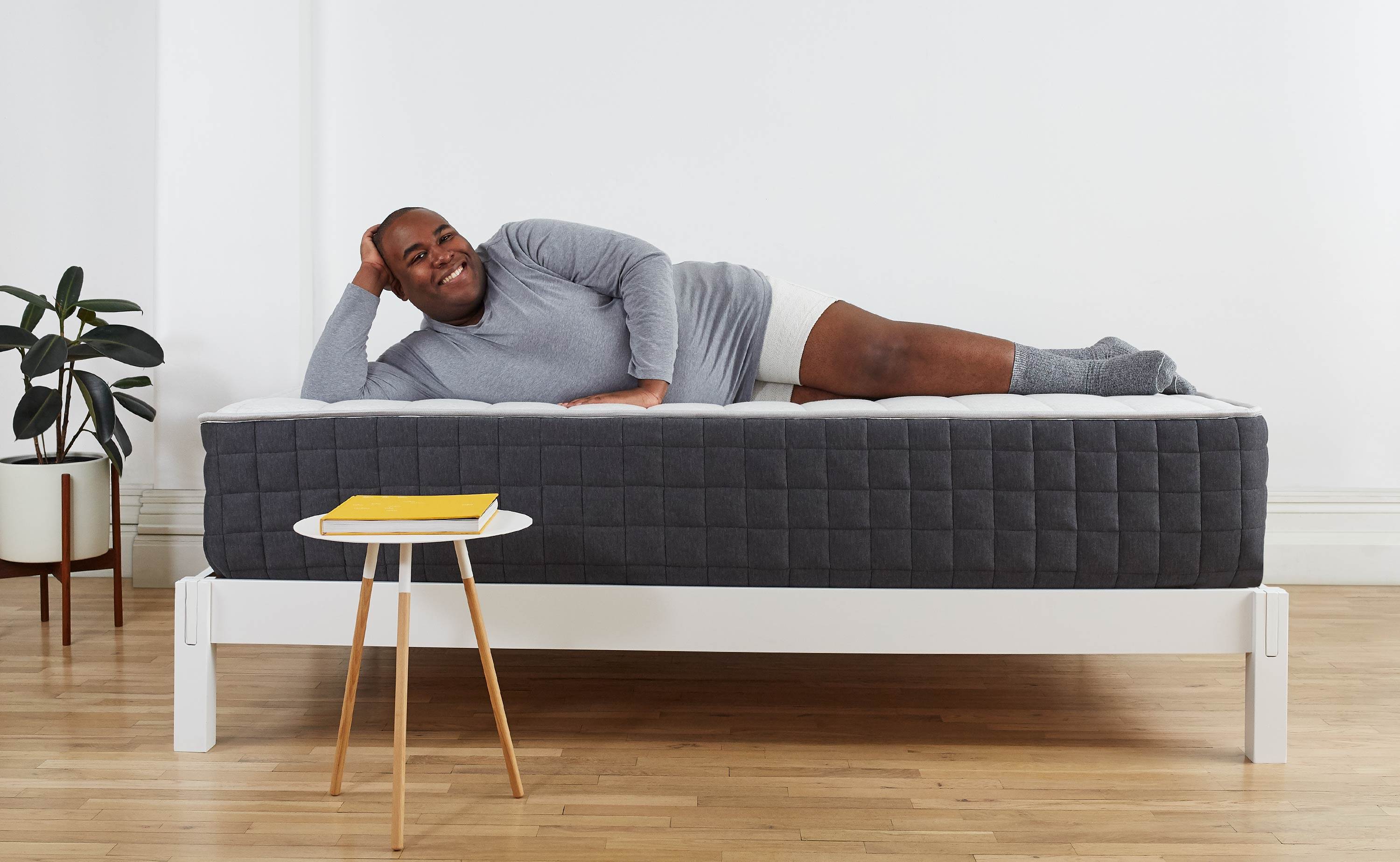 And remember this? Your decision on that day was final. This was your mattress to keep, so don't pick the wrong one!
We think we're all pretty glad that things have changed.
At Helix, we know how much the 100 Night Sleep Trial has changed the game and we're proud to offer this satisfaction guarantee on each and every mattress we sell.
"I have had a fantastic experience with both ordering and returning. The staff were so warm and friendly. Also the mattress is solid. Unfortunately, wasn't a good fit for me and hubby but it was heavier and sturdier than I had imagined it would be. Truly a no hassle experience. Would totally recommend this company."
Jamie T.
⭑⭑⭑⭑⭑
With our Sleep Trial, you don't need to try out a used mattress in a cramped store. You don't need to lay next to your partner and look up at a stranger who is counting on your commission.
With a Helix mattress you have the chance to try out a brand new mattress in your own home. For 100 nights. There simply is no substitute.
The Sleep Trial gives you time to try out your mattress week after week — to monitor the quality of your sleep and to understand how your body will react.
"This mattress didn't end up being the one for us however I thought it was important to say how easy the experience was. I anticipated some push back when I started the return process. The Helix rep was very professional and the return process was easy and seamless. You can buy this mattress worry free. I would recommend anyone looking for a new mattress to give Helix a try."
Mark D.
⭑⭑⭑⭑⭑
We're giving you the chance to lounge in your bed through a long weekend.
To crash into bed after a hard day at work.
To squeeze in six hours when it feels like life just won't slow down.
The Helix Sleep Trial gives you time to decide if your new mattress is the perfect fit for you. And if it's not? We'll help you return it for a full refund. (Seriously!)
If you decide during your Sleep Trial that your Helix just isn't perfect for your sleep preferences, all you have to do is let us know. We'll work with our pickup partners in your area to have the mattress removed from your home around your availability.
We do everything we can to have these returned mattresses donated or recycled and we'll return your money right away. Every. Single. Penny.
"My boyfriend and I completed the Helix quiz and got a blended king size mattress from Helix. The customer service was excellent. My boyfriend really liked the mattress, unfortunately I have fibromyalgia and a neck injury that make it hard to find a mattress that works. I ended up having to return and Helix made it as pain-free as possible, not like most other companies that make you jump through hoops. I absolutely endorse trying them out. It's a good price and a good mattress."
Amelia K.
⭑⭑⭑⭑⭑
Our goal at Helix is to help you find the perfect night's sleep. That's why we make sure our Sleep Trial is completely risk-free. Free shipping on your order. 100 nights to make up your mind. Free returns with absolutely no hidden fees.
So what are you waiting for? Start your Sleep Trial today!
"First off, let me start by saying we did not keep our mattress. That said, I still give this company 5 solid stars! They absolutely tried their best to provide us with a mattress that would accommodate both my husband and I. We wanted to love this mattress and sleep like babies. I am disappointed that we did not. It just wasn't the right fit for us. The mattress itself was soundly made and beautiful. I don't think I've ever described a mattress that way before. Ordering the mattress was a breeze. The constant communication from Helix was amazing. We received our mattress quickly. The mattress expanded just as instructed. Helix did everything within their power to make it right for us. In the end, when it didn't work out, they still treated us like royalty and provided all the details on how to make the return simple. Stellar service and I highly recommend. In addition to the mattress, we bought their foundation as well. We're so keeping that. What a genius idea to build a foundation that way! Kudos Helix!"
Christina M.
⭑⭑⭑⭑⭑