What Makes the Helix Luxe Special?
The Helix Luxe collection is our premium line of mattresses designed to provide you with tailored, hotel luxury comfort at a comfortable price. Read on to learn more about the features and benefits of this upgraded line of mattresses.
The Helix Luxe Mattress
The Helix Luxe mattress is designed to provide hotel level comfort and plushness that is still tailored to your needs and preferences, at a comfortable price point. Each component has been tested and optimized for your comfort and sleep quality.
Tencel™ Cover or GlacioTex Upgrade
Each Helix Luxe mattress features two cover options: our premium TENCEL™ fabric or the cutting-edge GlacioTex Cooling Cover.
The Ultra Breathable TENCEL™ cover is made from environmentally friendly tencel fibers from Eucalyptus trees. The cover is extra soft to the touch and has enhanced breathability to keep you cool. Additionally, the sub-microscopic channels provide best in class moisture wicking.
The GlacioTex Cooling Cover is an upgrade option and uses state-of-the-art fibers with high thermal conductivity to draw heat away from your body while you sleep. Not only does our GlacioTex fabric work to keep heat away from your body while you sleep — it's actually cool to the touch, giving you instant cooling relief as soon as you lay down.
Below either cover you choose is a quilted pillow top layer made of fiber and foam that provides that plush, luxurious feel often found in hotel mattresses.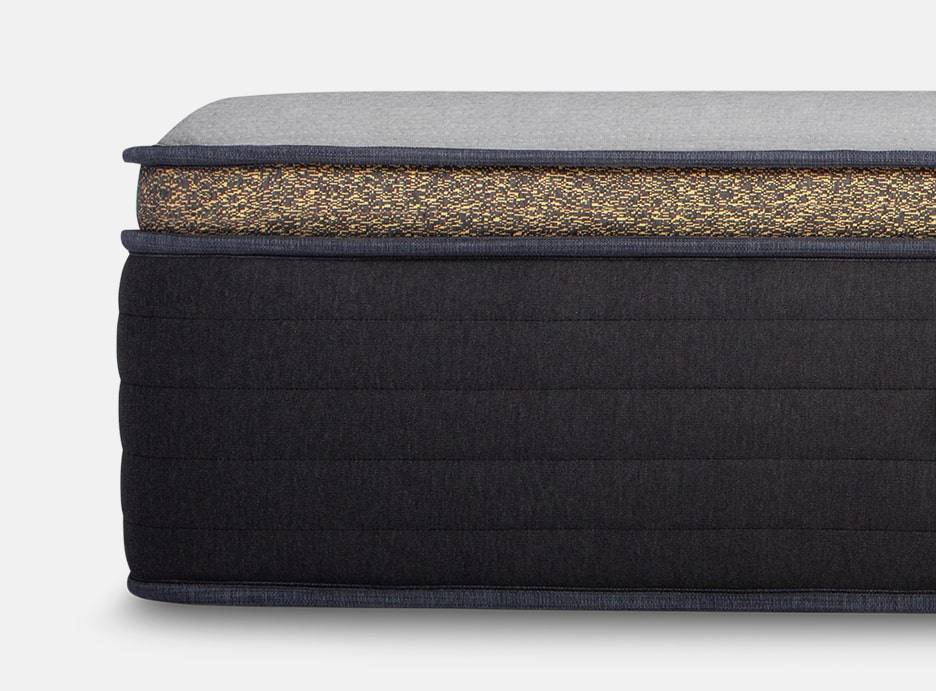 Below the pillow top layer, select Luxe models contain a Gel Visco memory foam. This layer is designed to offer pressure relief from the memory foam and cooling capabilities from the embedded gel.
Below that, side sleeper models will have a layer of Memory Plus Foam for additional pressure relief and contouring. All positions models will have a layer of Helix Dynamic Foam which offers springiness and bounciness along with weight distribution.
Below these two comfort layers, a layer of High Grade Polyfoam transitions the body from the foams to the spring layer.
The key to the Helix Luxe collection's support capabilities come from the Zoned Body Shape Layer. This consists of thousands of individually wrapped coils that each compress to support different parts of your body. The zoning means that it's softer in the shoulder and leg areas to allow the parts of you that push into the mattress more to provide maximum pressure relief and keep your spine aligned while you sleep.
The coils also have extra reinforced outer perimeter to provide what's called edge support. That means that when you sit on the edge of the bed it doesn't compress as much as the inner areas, so it's easier to get in and out, put your shoes on, and do whatever you need to do.
Below the Zoned Body Shape Layer, a layer of Duradense foam provides stability and protects the coils from the base the mattress is resting on.