How to Choose Between the Helix Plus and a Helix LUXE Mattress.
So, You Matched With The Helix Plus. Is That Your Only Option?
At Helix, we work hard to make your mattress selection easy and effective. Just a few questions about your size and sleep style and our Sleep Quiz will produce the best match for you. But you know yourself best. And you might be the kind of person who wants to weigh all the different models against what you know works for your unique preferences.  
That's why we want to make sure you keep all your options open.

Why Did I Match With The Helix Plus, Anyway?
If your Sleep Quiz results match you with the Helix Plus, that means we think you would enjoy the additional support features this mattress model can offer.
The Helix Plus is designed to support big and tall sleepers with an enhanced coil base and the perfect blend of ultra-dense memory foam and our proprietary Helix Dynamic Foam.
This mattress is great for all sleeping styles because it offers targeted pressure relief on the surface of the mattress thanks to medium-firm memory foam while also relying on a dense layer of Helix Dynamic Foam that prevents you from sinking in too much. The Helix Plus is a best-of-both-worlds model that combines incredible support and comfort into one mattress.
Helix Plus Materials

 

The Helix Plus combines an inch of Helix Dynamic Foam on the surface and and inch of Ultra Dense Memory foam just below the surface, making it the perfect fit for all sleep styles.

 
Bottom line: The Helix Plus is a best-of-both-worlds model that combines incredible support and comfort into one mattress.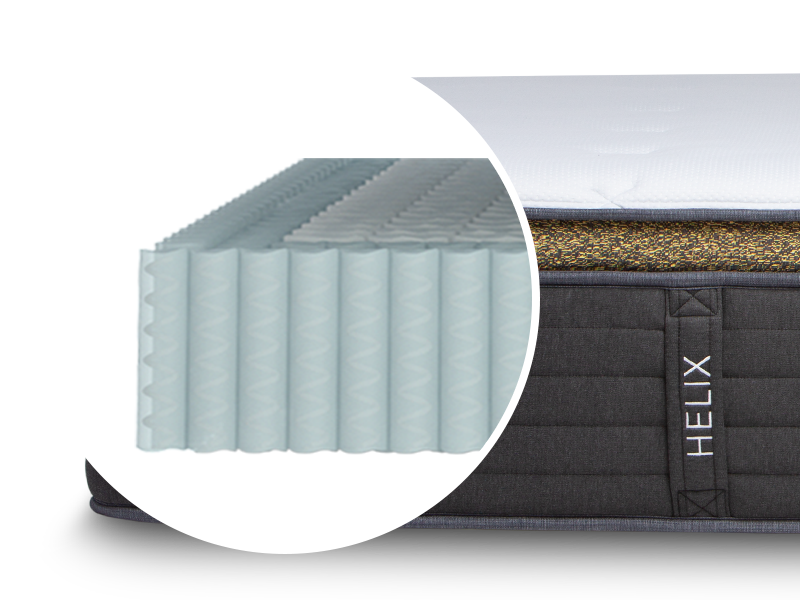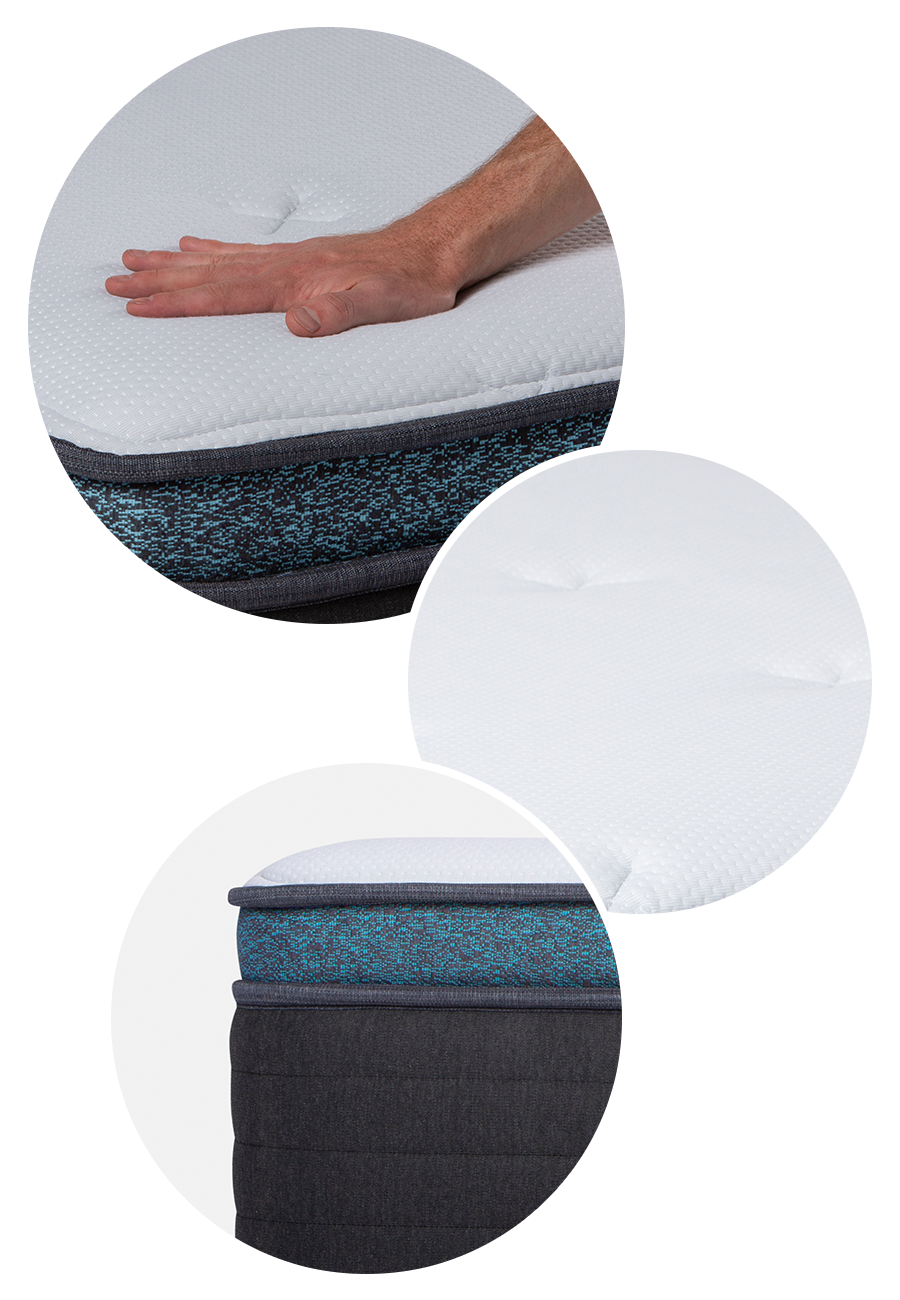 But, Please Feel Free To Look Around!

 

As we mentioned, the Helix Plus is designed with enhanced support in the coil base. But it's not the only Helix model with that feature.

 

In fact, all six of our Luxe mattress models use an upgraded coil base with almost twice as many coils as our standard line. With a denser coil base throughout the mattress, our Luxe models provide a sturdy, supportive feel that can be great for sleepers of any size.

 

In addition to the extra coil count, each Luxe model uses a firmer coil gauge across the middle section of the mattress where your hips will rest. This Zoned Lumbar Support, as we call it, prevents your hips from sagging and ensures that your spine is in line no matter what sleeping position you prefer.

 

The Luxe lineup will also feature an additional layer of foam built into the body of the mattress and a plush pillow top sewn into the surface for the perfect luxury feel every time you lie down. These two additional layers bring the total height for each Helix Luxe to 14 inches, compared to 12 inches for the Helix Plus or any Helix standard mattress model. The additional foam, steel, and plush layering needed for our Luxe models also result in a higher price point than both the Helix Plus and the Helix standard lineup.

Helix Mattresses
Prices
Twin - $600, Twin XL - $700, Full - $850,
Queen - $995, King - $1,245, CA King - $1,245
Feels
Soft, Medium, Firm
Construction
12" Tall, 4 Layers
Specialty
Plus Size (Nightfall), Dual Comfort


Helix LUXE Mattresses
Prices
Twin - $995, Twin XL - $1,245, Full - $1,495
Queen - $1,795, King - $2,195, CA King - $2,195
Feels
Soft, Medium, Firm
Construction
14" Tall, 6 Layers
Additional Features
Zoned Lumbar Support, Premium Quilted Pillow Top,
Additional Comfort Layers

Mix And Match For Your Sleep Style

 

With six different models ranging from soft memory foam to firm dynamic foam, the Luxe lineup gives you the chance to match your preferred sleeping position with the model that best fits your needs.

 

We offer a Luxe upgrade for each of the 6 standard Helix models so that you never have to sacrifice. You'll have all the support you'll ever need and you'll enjoy a tailored sleep system that makes your comfort a priority.
Still Have Questions? We're Here To Help!
We know how overwhelming it can be to sift through each mattress model and come to a final decision. If you have any questions for us about the difference between the Helix Plus and Luxe lineup, please don't hesitate to contact us at help@helixsleep.com.
We'll be happy to talk you through it!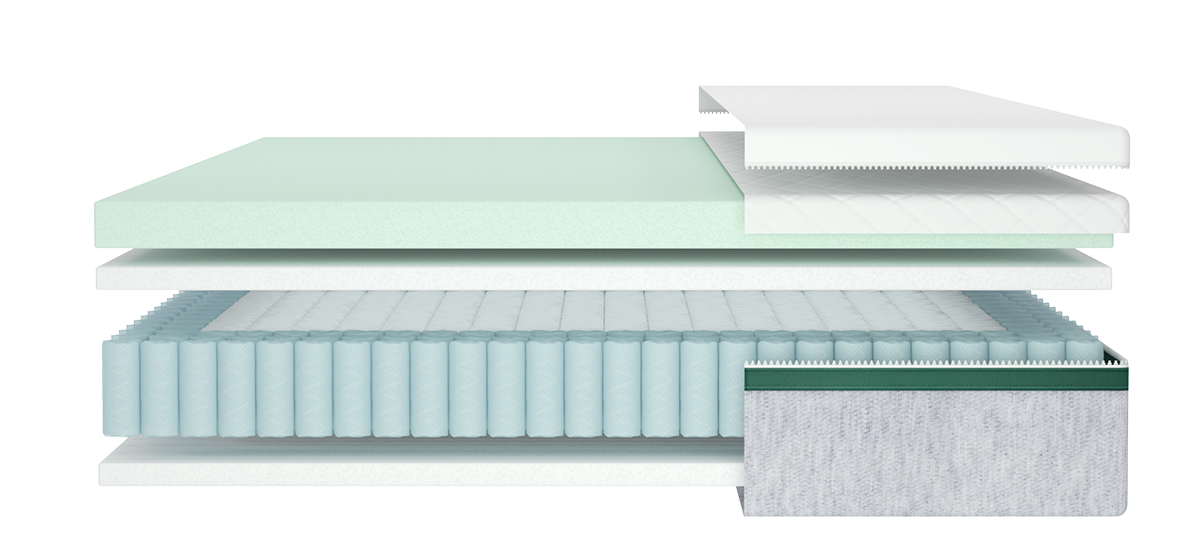 Helix Mattresses
Prices
Twin - $600, Twin XL - $700, Full - $850,
Queen - $995, King - $1,245, CA King - $1,245
Feels
Soft, Medium, Firm
Construction
12" Tall, 4 Layers
Specialty
Plus Size (Nightfall), Dual Comfort

Helix LUXE Mattresses
Prices
Twin - $995, Twin XL - $1,245, Full - $1,495
Queen - $1,795, King - $2,195, CA King - $2,195
Feels
Soft, Medium, Firm
Construction
14" Tall, 6 Layers
Additional Features
Zoned Lumbar Support, Premium Quilted Pillow Top,
Additional Comfort Layers


Helix Mattress
Queen Size
$995

Helix LUXE Mattress
Queen Size
$1,795