Cool Gel Memory Foam Mattress Guide: Pricing, Benefits & More
© CDSTOCK - stock.adobe.com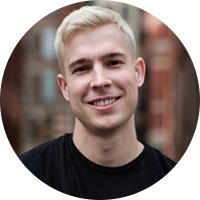 Zach Gentry
Helix Customer Experience Manager / Mattress Guru
Updated: February 11, 2020
A gel mattress, also known as a gel memory foam mattress or cool gel mattress, uses a combination of memory foam and gel. These products have the body-conforming and support features of memory foam, but they sleep cooler as compared to standard memory foam.
Most companies are secretive about their gel formulas, but they either mix the gel with memory foam, use gel pockets or gel beads, or place gel padding on top of memory foam. People who appreciate a cooler night's sleep will often opt for a bed with gel infused foam.
What is a Gel Mattress Made of?
Manufacturers combine gel and memory foam to create mattresses that provide coolness and support and conform to the body of the sleeper. Most companies are secretive about the ratios of gel and foam that they use, but both these materials are chemical composites.
The gel in a cooling gel mattress is similar to the gel inside the pads that farmers use to keep their cows cool and comfortable. Because cows are heavier than people, the formula for gel-infused mattresses is different than for cow pads, but the idea is the same: to create comfortable and cooling padding.
The structure underneath the cool gel foam mattress varies. It can include coils or other components that support the gel memory foam mattress. So you can see gel infused foam in any type of mattress: hybrid, foam, etc.
In some cases, you can purchase a gel top to place over regular memory foam or innerspring mattresses. These are generally cheaper than full-size memory foam with cooling gel mattresses.
How Long Does a Gel Mattress Last?
There is some debate on the longevity of cooling gel mattress products. One of the complaints about cool gel mattress beds is that the cooling effects wear off after a few years.
A cooling gel memory foam mattress contains chemical composites, so it will not break down as quickly as organic materials. However, some people see the use of chemicals as a drawback, and they may even notice a chemical scent on a new cool gel foam mattress.
The actual lifespan of a cooling gel memory foam mattress depends on its design and quality of the components. Well-made gel foam mattresses with proper support and the right balance of gel and memory foam can last for between 10 and 15 years. Lower-end models that use plastic-based gels and other cheaper components usually last for less than 10 years.
Most high-end gel foam mattresses use polyurethane-based gels, which last longer than those that contain plastics. These products may provide better value than cheaper options when you factor in longevity and comfort.
The combination of gel and memory foam generally provides a bit more support and longevity than memory foam by itself.
Price Range for Gel

Mattresses
A gel memory foam mattress is generally more expensive than a regular memory foam bed. A quality gel mattress is at the high end of the mattress price spectrum. That said, some gel memory foam mattresses are available in the budget price range of $400 to $500, and the price tag for a cooling gel mattress topper starts at only $10.
Mid-range prices hover in the $1,000+ range, while a high-end, cool gel memory foam mattress is around $2,500+. Most major brands have mid-range and premium gel mattress options.
How Firm is a Gel Mattress?
Mattresses that feature gel infused foams can range on the soft to firm spectrum. Oftentimes gel is infused with memory foam which tends to be a bit firmer though.
Take The Sleep Quiz To Find Your Match
There's a lot that goes into finding the best mattress—so much so that it can feel a little overwhelming. Luckily, you can try the Helix Sleep Quiz today to get started on your journey for the perfect mattress according to your body size, sleep style, and unique preferences.