How Big Is A California King Size Bed?
A standard California king bed usually measures 72 inches wide and 84 inches long. That makes them 4 inches longer, but 4 inches more narrow than a standard king. Some mattress retailers may differ an inch or two in the actual measurements, though.

In other words, Cal kings give sleepers some extra length when compared to standard kings, but still enough space for two people (and maybe a couple of pets) to spread out comfortably.

Read on to find out more about California king size mattresses, including information about how they compare to other mattresses, the benefits of this size and some common questions we hear from our customers.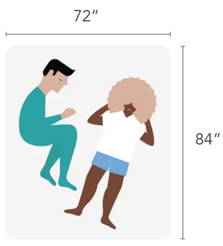 How California King Mattresses Measure Up
Consumers often consider the California king to be the largest size mattress offered by most brands, even though they actually have less total surface area than a standard king.

A standard king measures 76 by 80 inches, giving it a total surface area of 6080 square inches. The Cal king, at 72 by 84 inches, has a surface area of 6048. The main difference is that the California king is designed for taller people, while the width of the standard king makes it comfortable for most couples' master bedrooms.

When compared to a queen size mattress or even a full size mattress, the CA king is significantly larger. Queens typically measure 60 by 80 inches and full mattresses measure 54 by 75 inches. If you're in the market for a larger mattress, the full is probably out.

The queen bed or standard king are both viable options for couples, but you'll only find the best mattress size by evaluating the measurements or going to a showroom and seeing the sizes for yourself.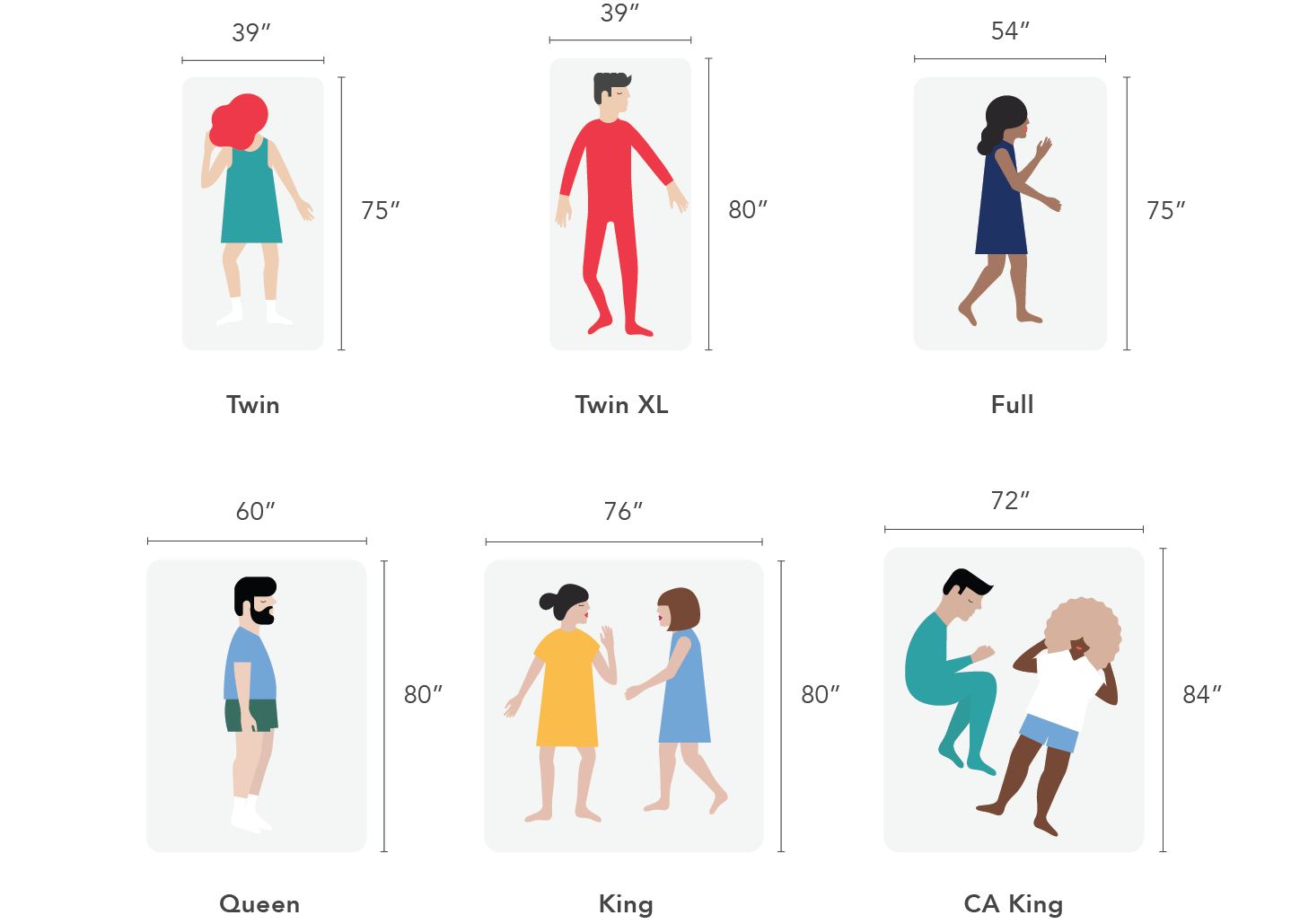 Benefits of California King Beds
King beds definitely fit the moniker. When you're in one of these, you've got 16 extra inches of space to work with compared to a queen size mattress and even more compared to a full size mattress. Below are some of the main benefits of getting a king bed.
•

Good for tall people - This is the main benefit. The extra inches of length can really go a long way to provide more leg room or simply room to spread out for couples.

•

P

erfect for pets

- If you're sick of pets taking up space in your bed or stealing your comforter, you might want to consider a Cal king. Even if you're a shorter person, having the extra space at the bottom for your pup can go a long way.

•

Space for partners - When compared to a queen size bed or smaller options, the California king can provide a lot more space for couples to spread out.
Alternatives to Cal King Size Mattresses
The most common alternative to the California king is the standard king. We already talked about the differences in size, but to reiterate, the standard king is wider but shorter than the Cal king by a few inches each way. Choosing one is really just about evaluating the mattress dimensions and your needs in terms of bed size.

If you're tall and need some more leg room, The Cal king might be the right call. If you're on the shorter side, but prefer to have some width, then the standard king is probably for you.

Alternatively, you could go even smaller and check out a queen size mattress. These measure 60 by 80 inches, so it might not be a great option if you're looking to go big.

A full size bed is probably out of the question if you're looking for more sleeping space in your new mattress. Full beds or "double beds" measure 54 by 75 and are significantly smaller than any king. Save these for the guest room.

Choosing a mattress size is really a matter of personal preference, your room size and other existing bedroom furniture.

FAQs About California King Beds
Are California king mattresses the biggest mattress size?
While they certainly provide the most length, California kings are not technically the biggest. King beds, which are 4 inches wider and 4 inches shorter, actually give you more square inches of space total.
Can I have a California king size mattress delivered?
Of course you can. Mattress in box companies like Helix Sleep can easily ship mattresses to your door. For other major retailers, you may have to arrange another method of delivery.
Will king sheets fit a California king mattress?
Unfortunately, your king sheets will not fit a California king. Fitted sheets made for standard kings will not be long enough to cover the extra length of a Cal king.
Where should I buy my California king bed?
Any major retailer will offer a California king, but that doesn't mean you should just go with anyone. Helix Sleep personalizes your mattress-buying experience by finding a mattress that aligns with your body type and sleep preferences. Check out our Sleep Quiz for personalized recommendations.
Other Mattress Sizes Explained
Now that you know all about California king dimensions, you might want to take a look at some other popular mattress sizes. We compiled a similar resource for each mattress size. You can find links to these resources below.

Helix Sleep has also made guides to each type of mattress size. You can find them below: