Eastern King? or The California King? King Size Beds Explained
A standard King size bed has long been the most popular mattress size for stately bedrooms and maximum comfort. Whether it for a couple, looking for enough room to stretch out at night, or a single sleeper looking to buy a bed frame large enough for his oversized room, there's no denying the King!
Before you purchase your new mattress, it's important to keep a few things in mind. One of the first considerations is how the mattress will fit your body and your bedroom. The dimensions of a king size mattress is 76" wide and 80" long, though there are sometimes subtle differences in sizes between brands.
King Size Bed Dimensions
The King mattress is also sometimes marketed as the "Eastern King Mattress", though there are no differences between the two. The standard King size mattress dimensions are 76" wide and 80" long.

Helix Sleep King size mattresses, for example, adhere to standard King bed measurements, though the height can range depending upon the type of mattress you choose and whether it has a pillow top.

Before we can determine whether a King size mattress is best for you, we must first explain how they stack up to different mattress sizes you may prefer for your master bedroom.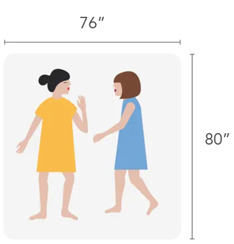 How King Size Mattresses Measure Up To Other Bed Sizes
California King Mattresses
The California King size mattress tends to be more narrow than a standard King, but is four inches longer.
Queen Size Mattresses
King beds are 16 inches wider than Queen size mattresses. If your room size is a bit smaller and there isn't enough space for a King, a Queen mattress may be the right choice.
Full Size Mattresses/Double Beds
King size mattresses are nearly two feet wider than Full beds or "doubles". If you don't have enough space for a Queen or King mattress, a Full size mattress could be perfect for you. For tall people, a Full XL bed could also do the trick.
Twin Size Mattresses
Twin beds typically are designed for teens. like a Full XL, a Twin XL bed provides more length for tall people.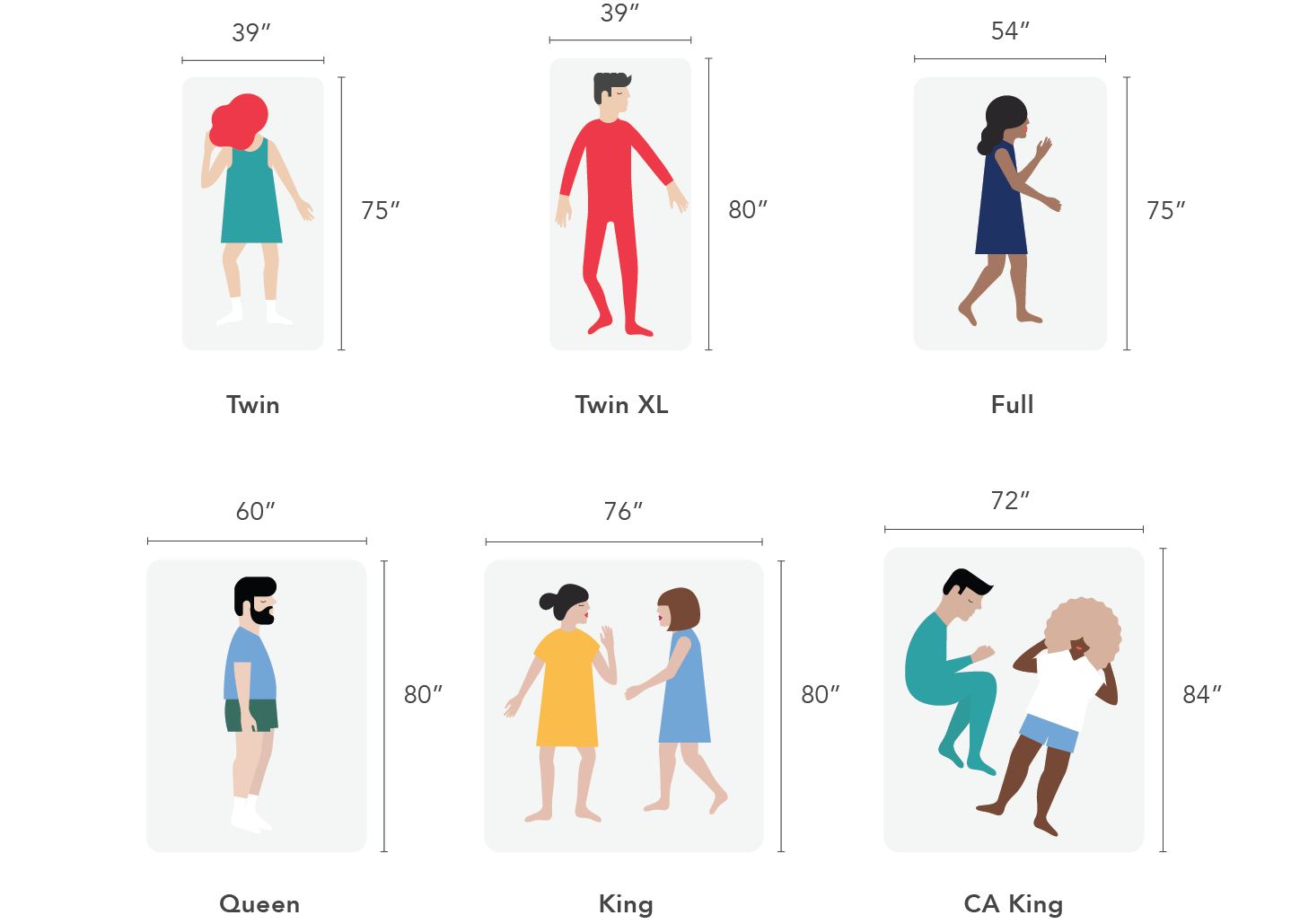 Benefits of King Beds
Below are some of the main benefits of a King size bed.
•

More space - King beds simply allow more sleeping space to spread out during the night, which can be ideal for people who prefer to stretch their limbs while sleeping.

•

Aesthetics - This applies mainly to people who have large bedrooms. A King bed can balance out a large room without taking up a significantly greater amount of space when compared with a Queen size bed.

•

Versatility - Though the actual materials don't change when you buy a King or Queen from a particular retailer, you will have the choice whether to spread out or cuddle up with your partner. It's up to personal preference, not space limitations. Single adults will have even more space.
Alternatives to King Size Mattresses
There are many popular mattress size alternatives to the standard King size mattresses. The California King bed is typically 72 inches wide (four fewer than the standard King) and 84 inches long (four more than the standard King). You're giving up a little width while gaining a little length. That might be a tradeoff worth taking for more leg room for taller individuals or have a big dog that likes to sleep at your feet.
Though one step down in scale, the Queen size mattress is a very popular option, though you'll lose 16 inches in total, many times this is the optimal choice for apartments and guest rooms with slightly smaller dimensions.

FAQs About King Beds
Is a King size bed worth it?
By any metric, a King sized mattress is the way to go. You'll need to consider whether you have enough space and how much bed you actually need, but for many consumers the King is the best mattress for their long-term sleep and overall health.
Is there a bed bigger than a King?
Yes! An Alaskan king bed can measure up to 108 inches by 108 inches.
Are King beds bad for relationships?
It's really hard to say as each situation is different. One of the pros of a Queen bed is the closeness it provides for couples, however not all couples like to sleep near each other and may prefer the extra space or extra length a larger mattress like the King or California King size mattress provides.
Do 2 Twins make a King?
Twin beds measure 38 or 39 inches wide and 80 inches long which are perfect for smaller rooms and dorm rooms. Putting them together will give you the width, but leave you 5 inches short of the King length. Two Twin XL size mattresses (measuring 39 inches wide and 80 inches long each) will give you the right length for a split King. However, it's best to just go with the standard King.
Other Mattress Sizes Explained
If you're looking to get measurements for every mattress size, check out our mattress sizes page. Here, you'll find all the standard measurements to help pick your new mattress. If you're looking to learn more about sleeping positions, personal preferences and how they affect your mattress choice, take the Helix Sleep Quiz.

Helix Sleep has also made guides to each type of mattress size. You can find them below: