How Big Is A Full Size Bed?
The bed dimensions of standard full-size mattresses are 54 inches wide and 75 inches long, though there can sometimes be minor differences between different brands and retailers.

Full-size mattresses are also referred to as double beds, and there is no difference between the two in terms of size. Now that you know the standard size, it's time to learn a little more about full size beds, including how they stack up to other bed sizes, popular alternatives and answers to some common questions we hear from our customers.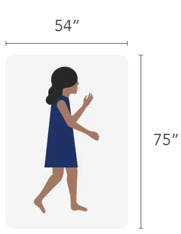 How Full Size Mattresses Measure Up To Other Mattress Dimensions
Full-size beds are often seen as the logical jump between or a twin or twin XL mattress and a queen. Twins typically measure 38 or 39 inches wide and 85 inches long. Twin XLs have an extra 5 inches of length at 80 inches long. So a full is 15 or 16 inches wider than a standard twin.

It's easy to see that a full is smaller than a queen when you stack them side-by-side. A queen size mattress is 60 inches wide and 80 inches long, so it's 5 inches longer than a full bed and 6 inches wider. It doesn't seem significant, but it can make a big difference, especially for couples sharing a bed.

Kings size mattresses measure 76 inches wide and 80 inches long, so they are quite a bit bigger than the full when comparing standard mattress sizes.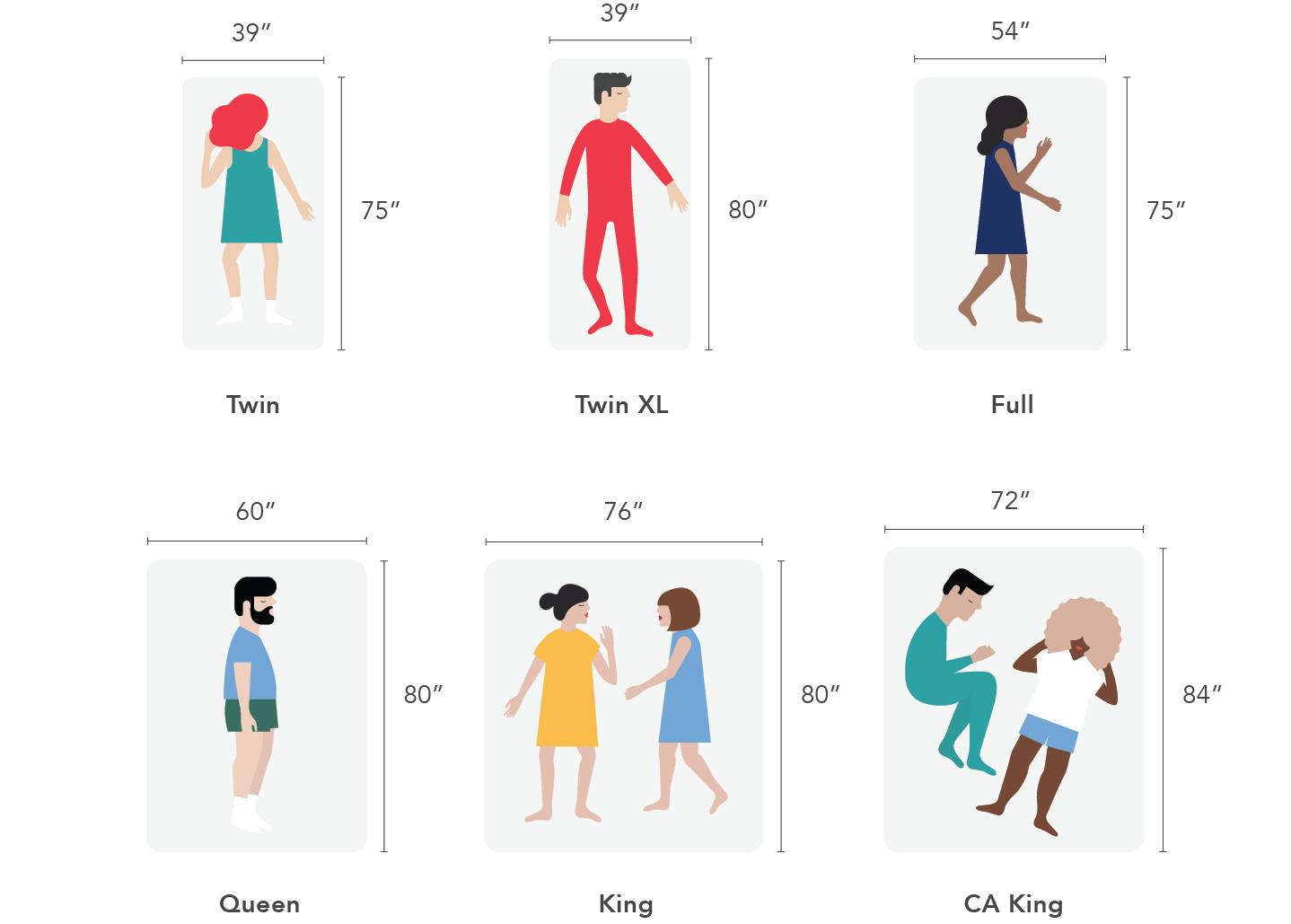 Benefits of

F

ull Beds
Though the queen is the most popular size, there are plenty of reason to check out the smaller full, especially if you're a single sleeper or looking for a bed for your guest room. Let's dive into some of the benefits below.
•

Conveniently Compact

- For smaller room sizes, full beds can be the perfect fit if you're looking to save space. They're a great size for the average size single sleeper to stretch out, but not too small where you might be uncomfortable.

•

Versatile - The extra space a double bed gives you from a twin is definitely noticeable, and while not necessarily longer, they do provide more leg room and sleeping space. This makes them great for small bedrooms, studio apartments and guest rooms.

•

Easy To Move - King and queen mattresses can sometimes be so cumbersome and difficult to move. If you plan on moving places a couple times through the life of your mattress, the full bed is a good option, especially if you're unsure what your room size will be.


•

Aesthetics - Though they don't have extra length when compared with a twin, they do have some extra size. This matters if you want to fill out a room or even just like sleeping on a larger surface for aesthetic reasons.

•

Cost Effective - Full beds are more affordable than queen or king size mattresses. Many people choose them for this reason, though it shouldn't be your only consideration.
Alternatives to Full Size Mattresses
The biggest debate among first-time mattress purchasers is whether to get a full or a queen. Queen beds provide a little more length and width, and are ideal for many couples (though it depends on personal preference). Single adults will likely be fine with a full, but again, it's up to their size and sleeping preferences.

If you're looking for a larger mattress than a full or queen, check out a king size bed or even a California king mattress.

Alternatively, if you're shopping for young kids, they might not be ready for a full yet. Twin beds are good for children and teens. They can stand individually or even be used for bunk beds for siblings.
FAQs About Full Beds
Is there a bed size between twin and full?
Full beds measure 54 inches wide and 75 inches long. Twin size mattresses measure 38 inches wide and 75 inches long. There is absolutely a difference in size between the two - the full is much wider. If you're looking for a little more length in a twin, the twin XL size measures 38 or 39 by 80 inches.
Can two adults sleep on a full bed?
Many couples can sleep comfortably on a full bed, though it might get crowded if you don't like to sleep super close or have pets that sleep with you. Most couples prefer a queen bed for enough space to spread out.
What's the size difference between a full and queen bed?
The queen bed is slightly wider and longer, measuring 60 inches wide and 80 inches long. Standard full beds measure 54 inches wide and 75 inches long. Queens tend to be the better fit for tall people and couples who prefer to spread out at night. A full might be best
Where should I get a full size mattress?
Every major mattress retailer offers a full-size mattress, but we recommend checking out Helix Sleep for your new mattress purchase. Helix makes the best mattress if you're looking for personalized comfort. Check out our Sleep Quiz. For custom recommendations based on your sleeping situation and preferences.
Other Mattress Sizes Explained
Now that you have a handle on the standard size for double mattresses, you can check out our guides on other mattress sizes. On each you'll find a size chart with standard measurements, benefits, alternatives and common questions.