Twin XL Mattress Dimensions: How Big Is A Twin XL Size Bed?
Last updated on October 28, 2022
When you're starting your mattress search, there's a lot to consider: what style of mattress do you want? Are you hoping for a soft or firm feel? How much do you prioritize cooling while you sleep?

But your very first consideration comes down to a simple question: how much space do you have?

Mattresses are available in a wide range of sizes, giving sleepers the ability to find the perfect fit for your unique space and sleep style. The standard king size mattress and California king bed offer the most space for your sleep. But not everyone has a room big enough to fit them.

Queen size beds are often known to be the most popular mattress size and can be a great middle ground for average sized rooms and sleepers who want plenty of space to roll around. But if space in your home is limited, a full size bed or double bed can also be great options. They are just a bit shorter and narrower than a queen size bed.

For a lot of people, though, space is the main concern - especially if you're living in a studio apartment, for example. For these shoppers, the twin XL mattress can be the perfect option.

Twin XL mattresses offer a best-of-both-worlds scenario where you can save on space with a narrow design, without sacrificing the legroom so many of us have come to demand in a mattress. You'll find Twin XL mattresses offered in foam mattress designs, innerspring mattress designs, and even hybrid mattress designs. Twin XL mattresses can also work great with an adjustable bed frame so you can customize your sleep.

In the article below, we'll take a look at everything from the twin XL mattress dimensions to the benefits of this unique size and the questions you should consider throughout your mattress buying journey.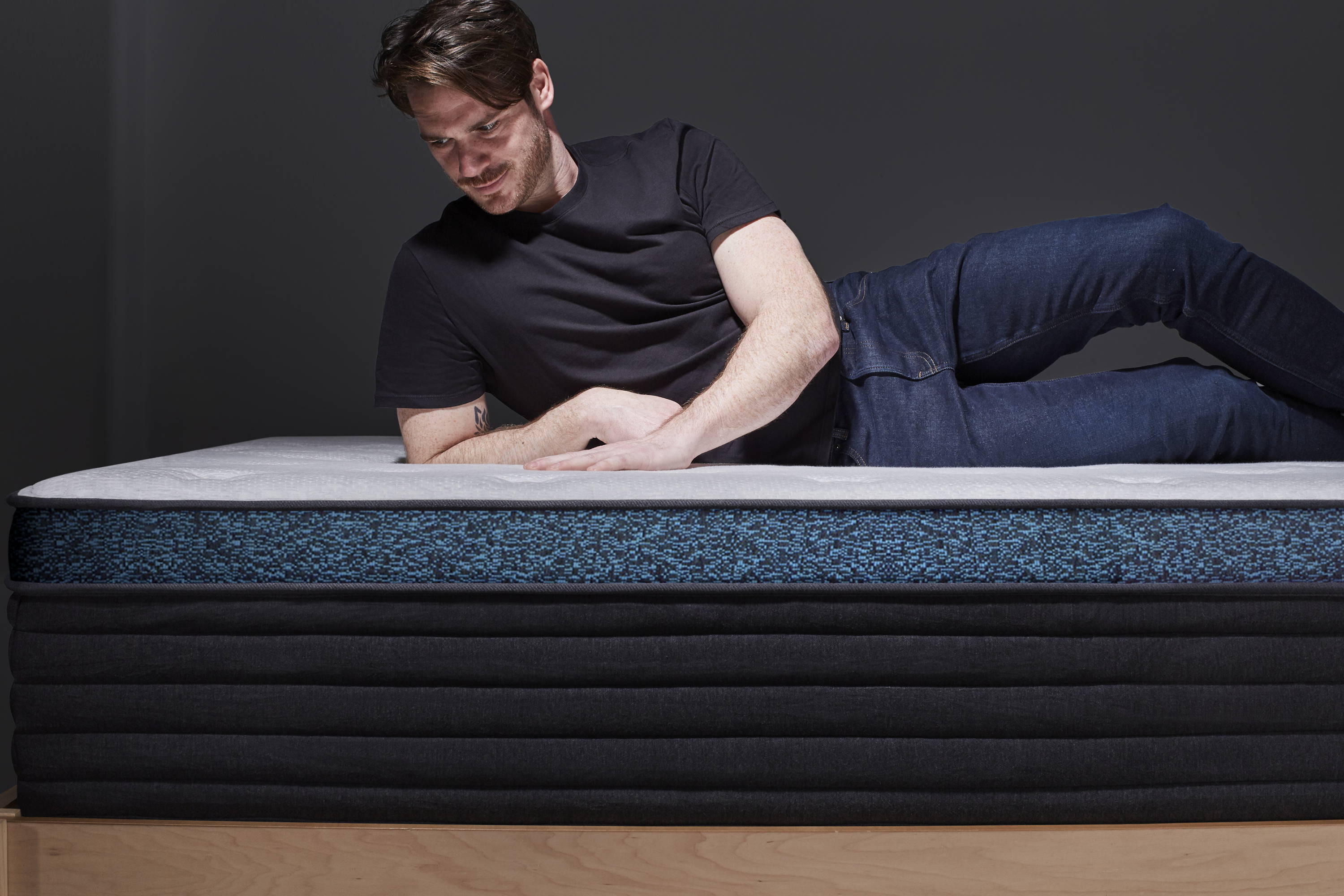 So what are the twin XL mattress dimensions?
The dimensions of a twin XL mattress usually measure 38" wide and 80" long. This makes them 5 inches longer than a standard twin while maintaining the same width. Some mattress retailers may differ a bit in these measurements, though.
Twin XL mattresses are known to be a versatile option for sleepers living in a dorm, studio apartment, or other small space where your mattress can't take up too much room. Unlike a twin-size mattress, which measures just 75" long and is more appropriate for children, twin XL mattresses can be a great option for taller individuals and for adults as their 80" length matches that of a queen- or king-size mattress. Twin XL mattresses can also be great for children's rooms or small bedrooms as well as for college students living in dorm rooms.

How twin XL mattresses measure up
Like we said above, the most common comparison to the twin XL is the twin. Standard twins are usually the same width as twin XLs, but are typically 5 inches shorter. Aside from a crib mattress, the twin size beds are the smallest bed dimensions on the market. 
When compared with a full size bed, the next size up, the twin XL is narrower by 15" or 16". However, a twin XL mattress gives you five more inches of extra length. Queen-size mattresses are 21 or 22" wider than a twin XL mattress, but have the same length. King-size beds are much, much larger and will give users 37 or 38 extra inches of width. They measure 76" wide by 80" long. A California king mattress measures 72" wide and 84" long, making a California king the largest mattress on the market.

This is why twin and twin XL mattresses are the preferred mattresses for college dorm rooms, guest rooms, bunk beds or anywhere else you need to conserve space. They are well-suited for single sleepers. Here's a size chart to help you visualize the differences between each of the bed dimensions.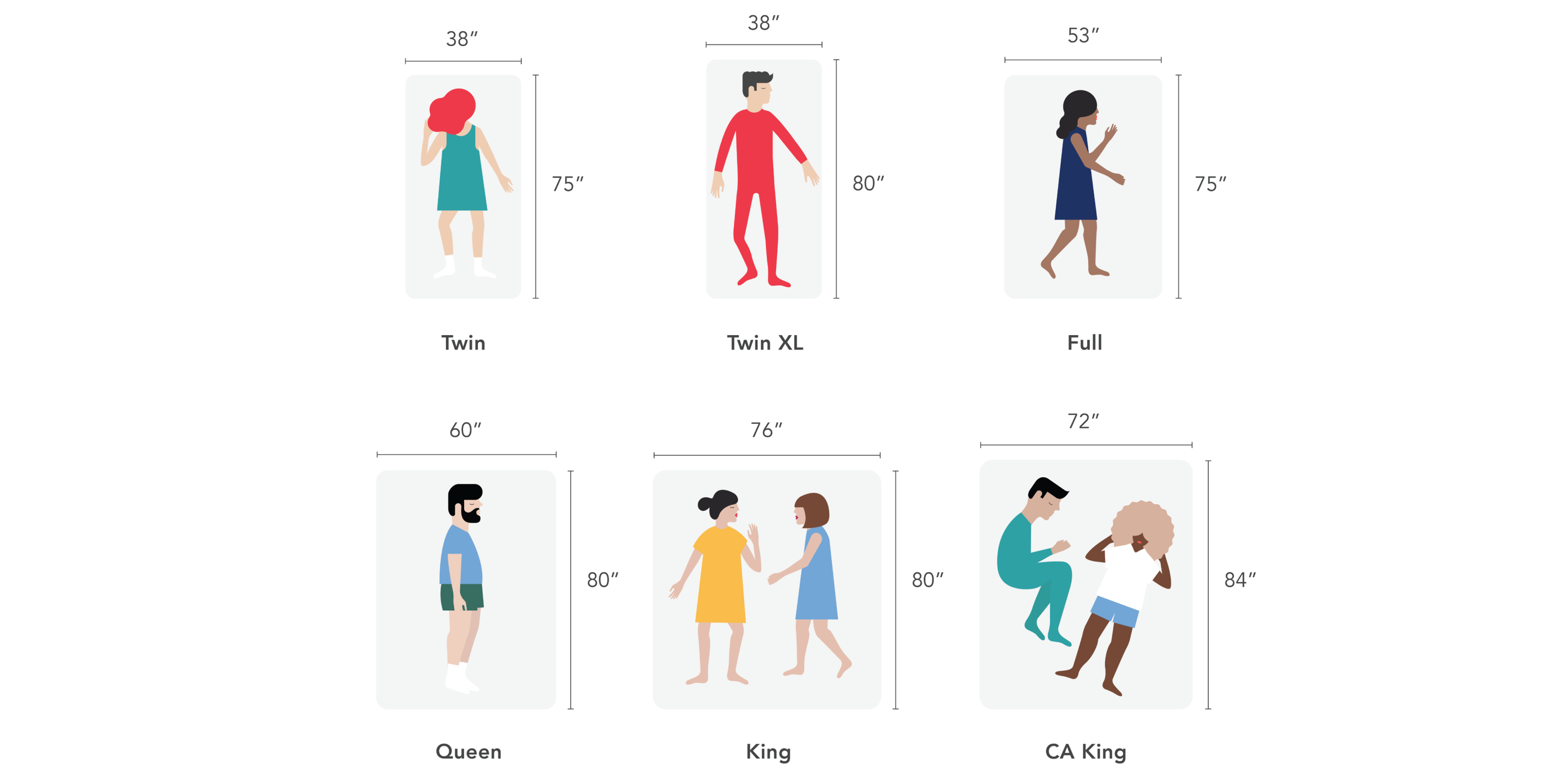 Benefits of twin XL beds
Twin XL mattresses, like the standard twin, are a popular choice for many people based on their size and versatility. Below, we'll go through some of the common benefits of purchasing a twin XL mattress.
•

More legroom - Compared to the standard twin, twin XL mattresses give you more space to stretch out. They add 5 extra inches of legroom, which doesn't seem like much, but can go a long way for adult single sleepers.

•

Versatile - The best thing about twin XL beds is their versatility. They can fit in almost any room size, including tight college dorms or even bunk beds. They also are large enough to give tall people enough room to spread out.

•

Good for adults - Many adults might find the standard twin a little restricting. The twin XL was created with taller individuals and adults in mind, especially those who have limited space in their sleeping areas.

•

Compact - Twin XL mattresses are a good solution for college students, studio apartments, and other living spaces with limited square footage. They won't eat up space the way a full, queen or king would.

•

Split setup - We'll explore this arrangement in more detail below, but twin XL mattresses are also a popular option for couples who want different firmness levels on each side of the bed. Two twin XL mattresses together match the length and width of a king size bed and can easily serve as a split king mattress. Bed bridges are also a popular item to wrap around the perimeter of two twin XL mattresses and keep them together, while also providing a smooth, soft surface where the two mattresses meet in the middle.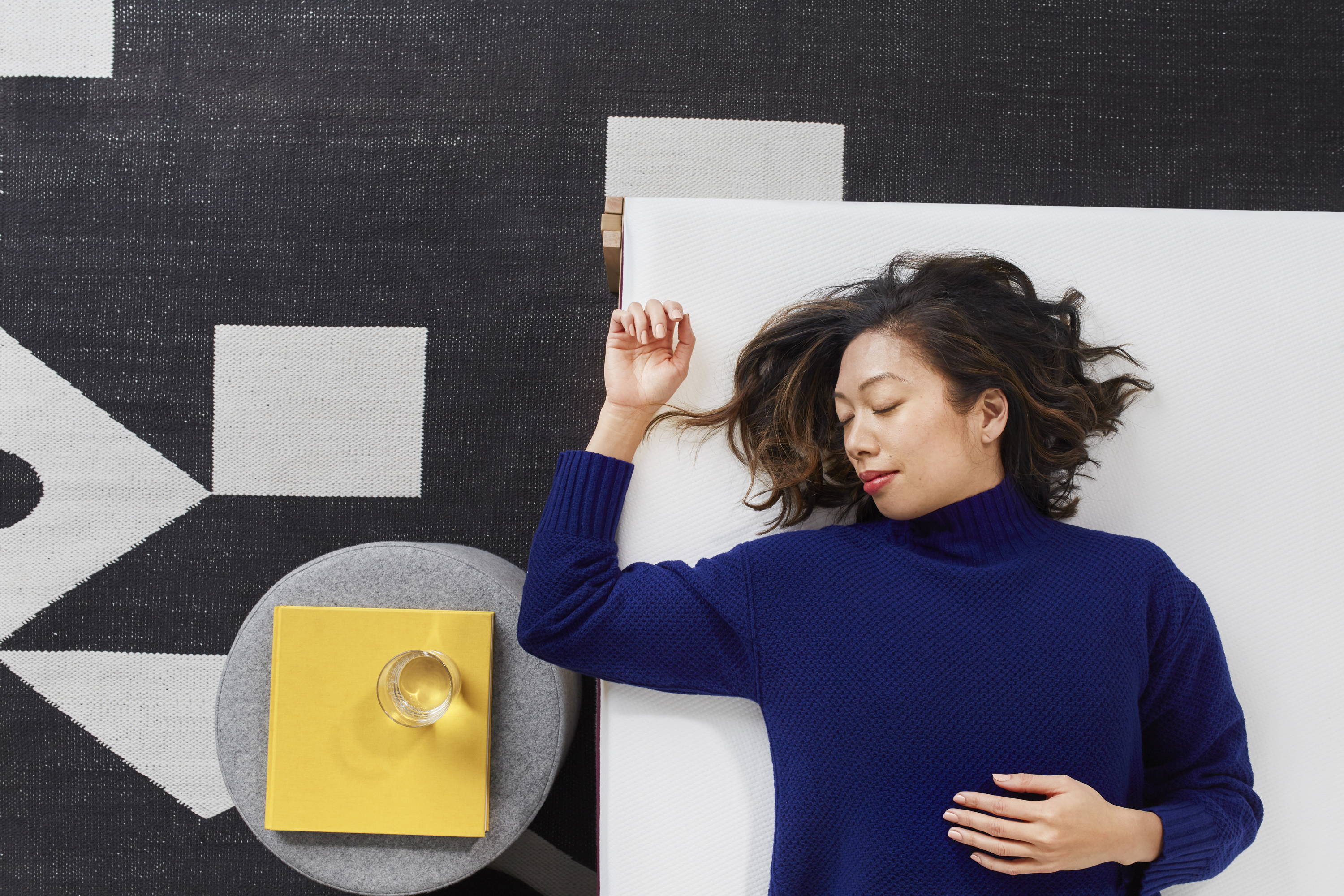 Alternatives to twin XL-size mattresses
Like we said above, the main alternative to a twin XL mattress is the twin-size mattress, but there are definitely other alternatives. Full size beds measure 54" wide by 75" long. While you're losing out on that extra legroom, the larger size of a full bed can accommodate two people comfortably if they're into snuggling up.

Queen size beds and the standard king size are quite a bit larger and are usually reserved for master bedrooms or sleeping areas with a bit more space. The California king bed and Alanskan king are the largest options available from most mattress companies. And though the twin XL can support an adult, many single sleepers opt for the extra width these alternatives provide.
Helix mattresses available in a twin XL size
At Helix, we offer a wide range of mattress models in a twin XL size. The Helix Collection, Helix Luxe Collection, and Helix Plus designs are all available in twin XL dimensions. The Helix Collection includes six mattresses, each 12" tall, with high-quality foam and steel-coil bases.
Our Luxe collection takes that quality and innovation to the next level. Enhanced support, an additional comfort layer, and a plush topper make this our premier offering. Each Luxe model is 14" tall with mattress dimensions ranging from a twin-size to CA king size.
The Helix Plus is specially designed, at 13" tall, to provide durable, sturdy support and long-lasting comfort for big and tall sleepers. The Helix Plus is also available in dimensions ranging from a twin size mattress to a CA King size mattress.
Each of these mattress models is designed with specific features to work well with your unique sleep style and preferences. Here is a look at how the actual weight of each design varies:
Helix Plus mattress (Twin XL size): 73 pounds
Helix Midnight mattress (Twin XL Size): 61 pounds
Helix Midnight Luxe mattress (Twin XL Size): 85 pounds
Helix twin XL mattress pricing
Once you've decided on a twin XL mattress, it's important to determine which model will actually be the best fit for you. At Helix, we offer an intuitive Sleep Quiz that is designed to take your individual preferences on firmness, support, back pain, sleep position, and others and provide a recommendation from the full Helix lineup of mattresses.
And of course, the quiz is extremely effective at finding the right mattress for most of our customers. But you'll need to consider the cost of each model as well before making your final decision.
In a twin XL size, Helix mattress models vary a bit in price. Here's a look at each price point. Please note that the prices below are listed before any discount is applied. If you're interested, you can click here to learn more about our current discounts and promotions.
Helix Plus mattress (Twin XL size): $1,049
Helix Midnight mattress (Twin XL Size): $899
Helix Midnight Luxe mattress (Twin XL Size): $1,449
Sleep accessories in a twin XL size
Got your mattress picked out? That's great! But setting yourself up for sleep success can be about so much more than just a great mattress. It's important to have excellent bedding and support features in place to enjoy your best sleep night after night.

The Helix store is full of sleep accessories to complete your twin XL setup and help you enjoy the best sleep on night one.

Helix Sheets: What's better than crawling into bed after a long day and enjoying that first cozy comfort of high-quality sheets? We know how important it is for you to have soft yet durable sheets that will stand up to everyday use for years. Our sheet sets rely on luxury TENCEL fabric to offer the perfect blend of soft, breathable, long-lasting comfort.

GlacioTex Waterproof Mattress Protector: Spills happen, right? And you definitely want to protect your new investment. But why not add in the extra effect of cooling your mattress off with cutting-edge cooling technology? Our GlacioTex mattress protector helps pull heat away from your body while you sleep, while also protecting your mattress from stains and spills.

Helix Foundation: Mattress today are made a bit differently than you might be used to. Every Helix model, for example, combines foam layers with individually wrapped steel coils to form what is called a hybrid mattress. This design, though, requires sturdy support that a traditional box spring just can't provide. That's why it's important to complete your twin XL setup with a Helix Foundation or similar slatted base. The Helix Foundation can also be paired with a twin XL bed frame.

Helix Wedge Pillow: Who doesn't love watching some TV or catching up on your reading in bed? The Wedge Pillow is the perfect accessory for your mattress - whether you're in a dorm room studying or looking to fill out your studio apartment. This dense memory foam design is perfect for comfort in any elevated position.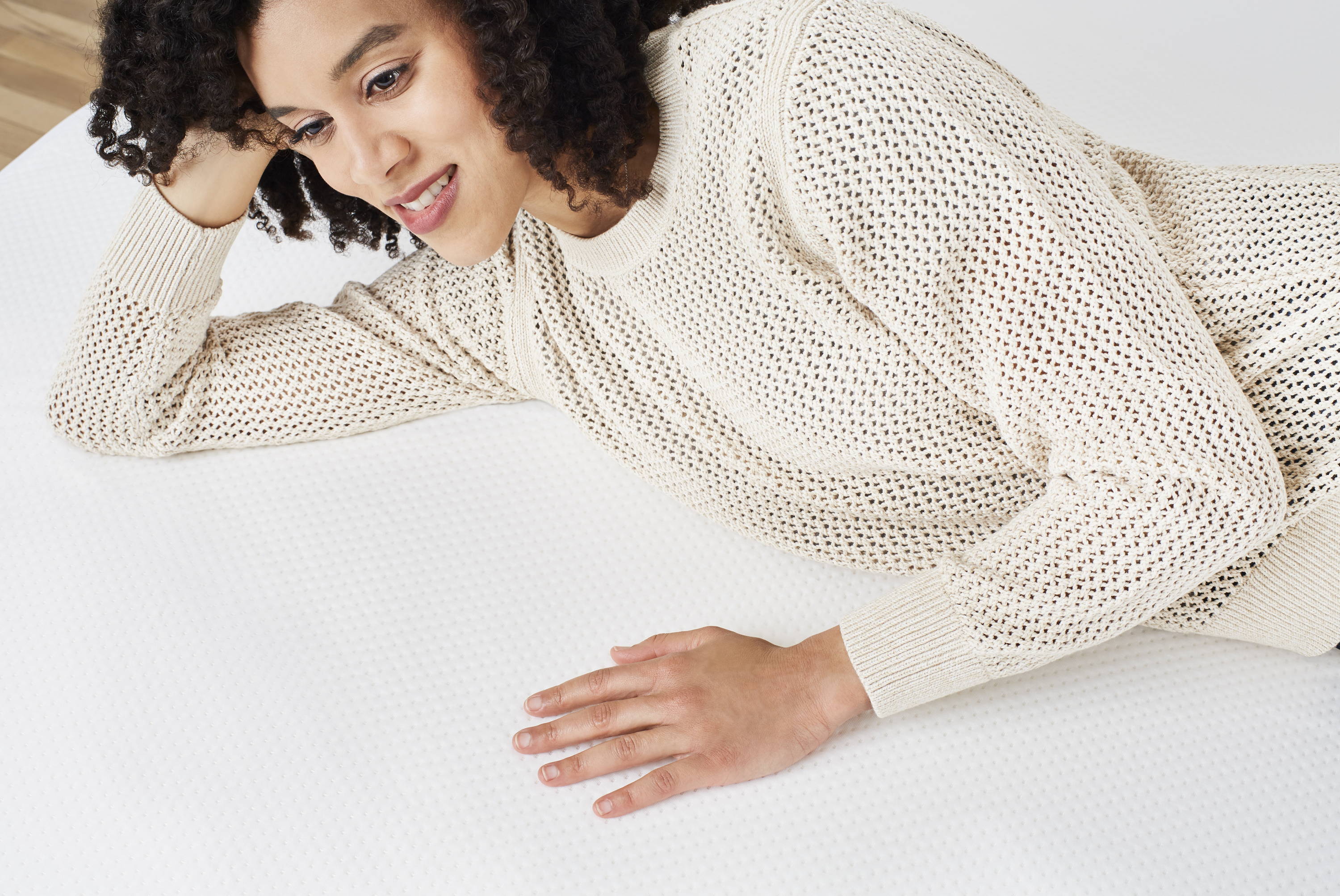 Paying for your new mattress
So, you've decided on the best Helix mattress for your sleep preferences. You've added the necessary accessories. You've calculated the grand total and you've applied the best discount code for your order.
Now it's time to decide how you'd like to pay for your order.

Buying a new mattress is no doubt a large investment and we're proud to partner with two great companies to offer easy and affordable financing options for any customers interested in paying for their orders over time. Let's take a quick look at both options below. Don't forget you can also click here to learn more about each of our financing options.


Klarna
Monthly financing starting at 0% APR on $499 - $10,000 orders

OR
Pay in 4 Installments

Klarna offers 4 interest-free installments on your credit or debit card for $10 - $3500 orders.

Katapult
Katapult offers alternative financing for people with low or no FICO scores.

Shipping a twin XL mattress
As you might have seen while doing your mattress research—things have changed just a bit since the days of making a trip to the big box store and picking out your mattress. Today, mattresses from Helix and similar industry competitors can be shipped directly from the manufacturing facility to your door. No middleman involved!
In fact, Helix owns its own manufacturing facility right here in the USA, allowing us to bring together some of the most skilled manufacturers to produce the highest quality mattress in the industry. And we do it all without having to add on all the expensive fees that mattress retailers typically require.
Every Helix mattress is compressed by what is called a "roll packing machine" and shipped in a box directly to your door. Every model is shipped in a box that measures 47" x 16" x 16" but shipping weights can vary by size, so let's take a look at the shipping weights for Helix twin XL mattresses:
Helix Plus mattress (Twin XL size): 73 pounds
Helix Midnight mattress (Twin XL Size): 61 pounds
Helix Midnight Luxe mattress (Twin XL Size): 85 pounds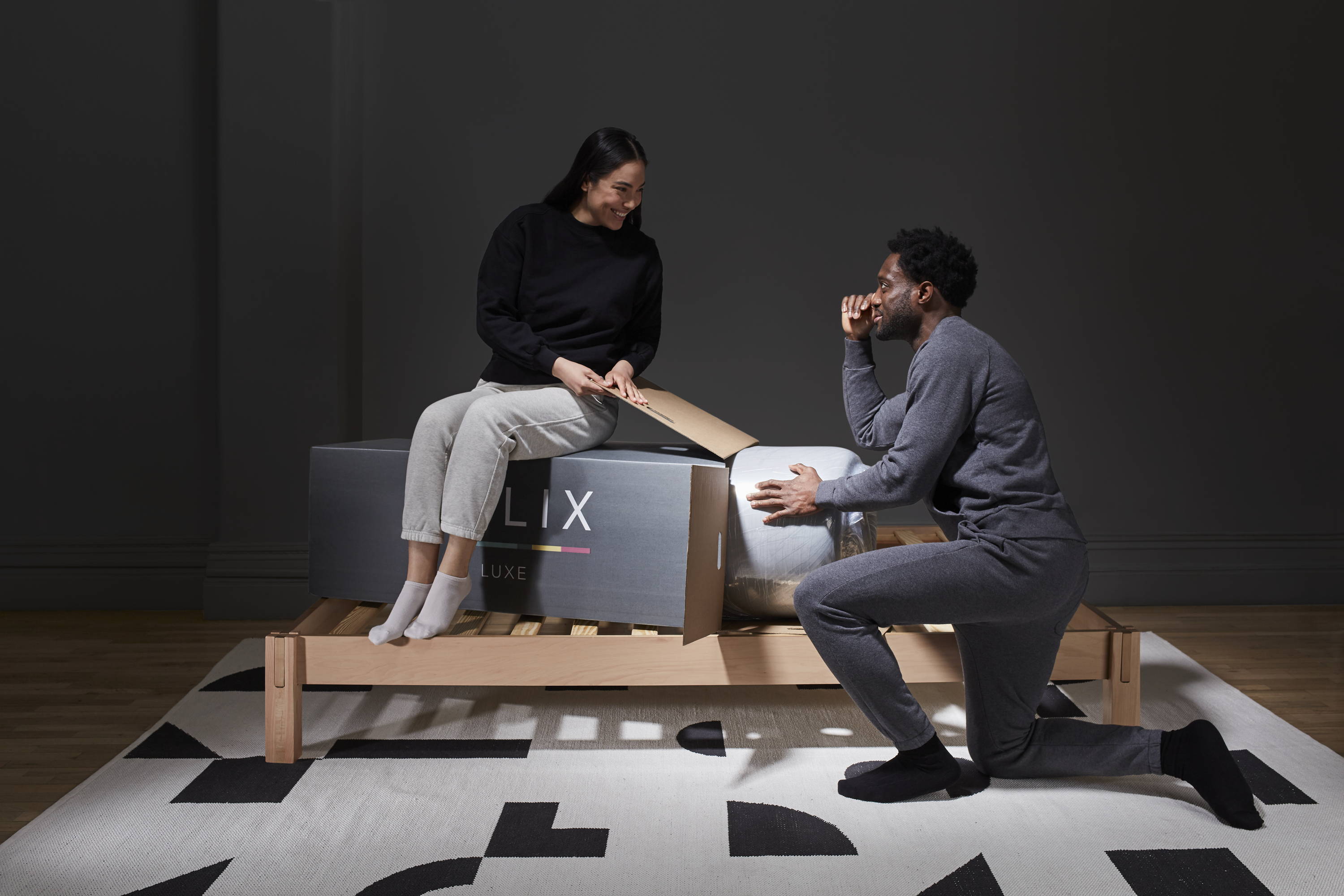 Testing out your new mattress
We mentioned above that mattress buying has changed quite a bit in the last decade or so. One of the most important changes has been the introduction of the sleep trial. Each and every Helix mattress automatically includes a 100-night risk-free trial that gives you the chance to sleep on your new mattress in your own home and decide if it's the right fit for you.
We strongly believe you just can't get a good feel for a mattress when you lie down for a few minutes in the middle of a store. You need to see how the mattress impacts your sleep, see how your body reacts in the morning, assess how you feel throughout the day.
We give you the chance to do just that.
As part of your risk-free trial, we ask customers to give their new mattress up to 30 days before making a decision. New mattresses can take just a bit of time to break in and it can take your body a few weeks to adjust as well.
With the help of our innovative quiz and tailored mattress models built for every unique sleep style, we're confident you'll be enjoying your best night's sleep in no time.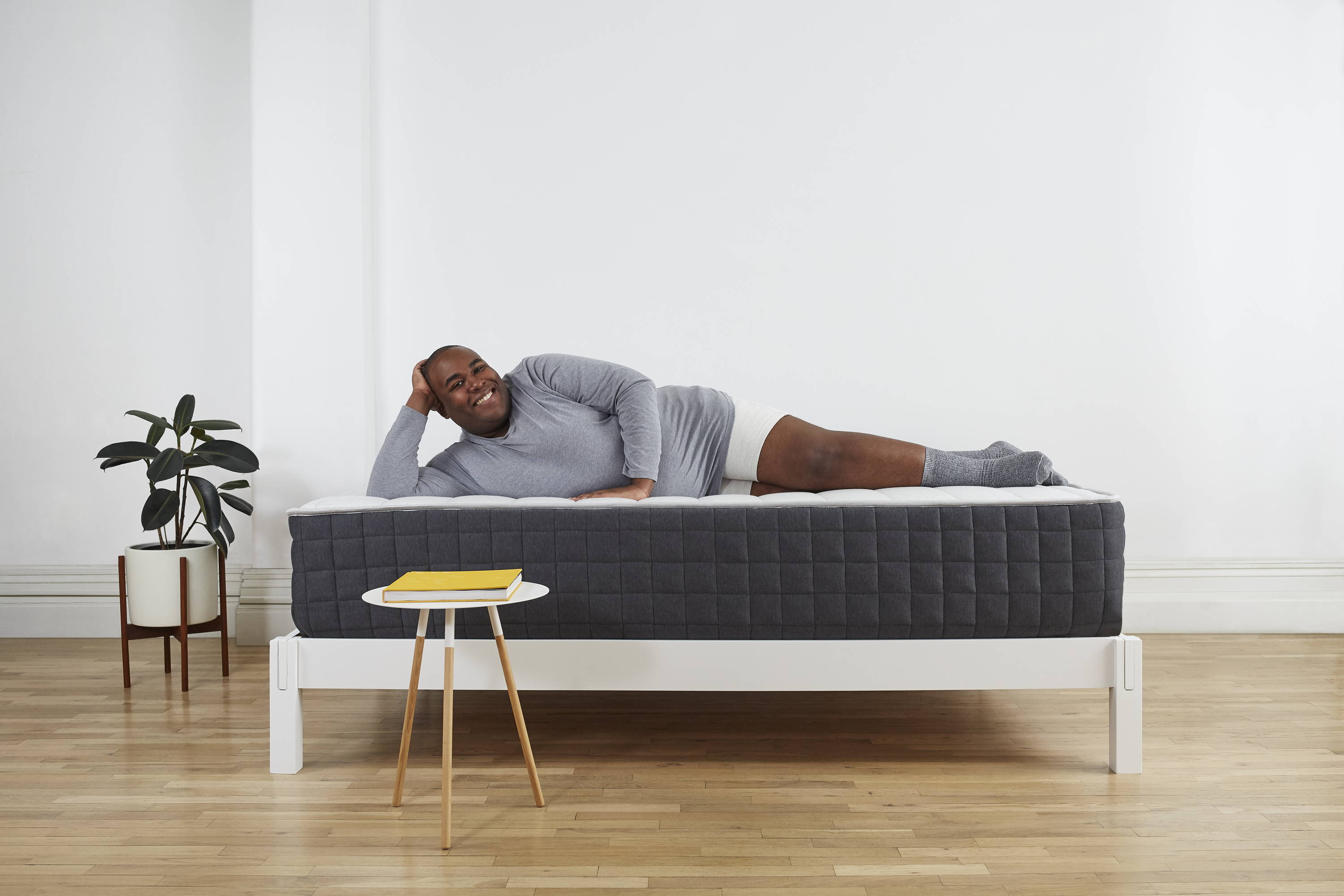 FAQs about twin XL beds
What is the difference between twin and twin XL mattresses?
The main difference is the extra leg room. Standard twin beds measure 38" by 75", while twin XL mattresses measure 38" by 80". Twin XL is a popular mattress size for single adults and taller sleepers who are looking for an extra long mattress. The regular twin-size single mattress is better for young children or constricted sleeping spaces.
Can you put a twin XL mattress on a twin bed frame?
As we discussed above, it's incredibly important to provide the necessary support beneath your new mattress. Otherwise, the foam layers can dip or sag and your mattress will break down quickly. That's why we recommend ensuring your mattress is paired with a foundation or base of the appropriate size. For a twin XL mattress, we strongly recommend pairing it with a twin XL base or foundation.
Do 2 twin XL mattresses make a king bed or split king?
Standard size twin XL dimensions are 38" by 80", exactly half of a standard king, which measures 76" by 80". Because of this, many couples choose to purchase two twin XL mattresses to complete their king size setup. Using two twin XL mattresses for a king setup offers the flexibility to have one side of the mattress that is firmer than the other.
Using two twin XL mattresses for your king size bed also gives sleepers the ability to purchase two twin XL adjustable bases and operate the bases independently, meaning you can raise and lower your side of the bed without impacting your partner.
Many couples also use what is called a bed bridge to keep your two twin XL mattresses together and to smooth any gap between the two mattresses.
Where should I get a Twin XL mattress?
Most major retailers offer a twin XL mattress. You should do your research and find out which one is best for your sleeping preferences. One way we try to match customers with the best mattress for them at Helix is through our Sleep Quiz. Basically, you answer some simple questions about your sleep life and we'll match you up with your ideal mattress. The Sleep Quiz has become an incredibly popular tool that helps shoppers navigate the complicated mattress landscape and find the mod that best matches your preferences. You can try it here.
Other Mattress Sizes Explained
If you're reading this, you're probably considering trying out a twin XL or comparing it with other mattress sizes. We made one of these guides for each standard mattress size, and suggest reading through each that will fit your situation. Check them out below.