How Big Is A Twin XL Size Bed?
The mattress dimensions of a Twin XL bed usually measure 38 inches wide and 80 inches long. This makes them 5 inches longer than a standard Twin while maintaining the same width. Some mattress retailers may differ a bit in these measurements, though.
Helix Sleep, for example, makes Twin XL mattresses with a bed size of 39 inches by 80 inches, giving users an extra inch of width when compared with other retailers.
Read on to find out more about Twin XL mattresses, including how they measure up to other sizes, benefits from the extra space and common questions we hear from customers.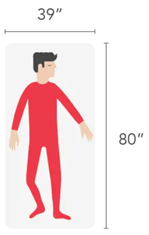 How Twin XL Mattresses Measure Up
Like we said above, the most common comparison to Twin XLs is the Twin. Standard Twins are usually the same width as Twin XLs, but are typically 5 inches shorter.
When compared with a Full size mattress, the next size up, Twin XLs are more narrow by 15 or 16 inches. However, a Twin XL gives you five more inches of extra length. Queen size mattresses are 21 or 22 inches wider than a Twin XL, but have the same length. King size beds are much, much larger and will give users 37 or 38 extra inches of width. They measure at 76 inches wide by 80 inches long. A California King mattress measures 72 inches wide and 84 inches long, making a California King Bed the largest mattress on the market.
This is why Twins and Twin XLs are the preferred mattresses for college dorm rooms, guest rooms, bunk beds or anywhere else you need to conserve space. They are, however, well-suited for single sleepers.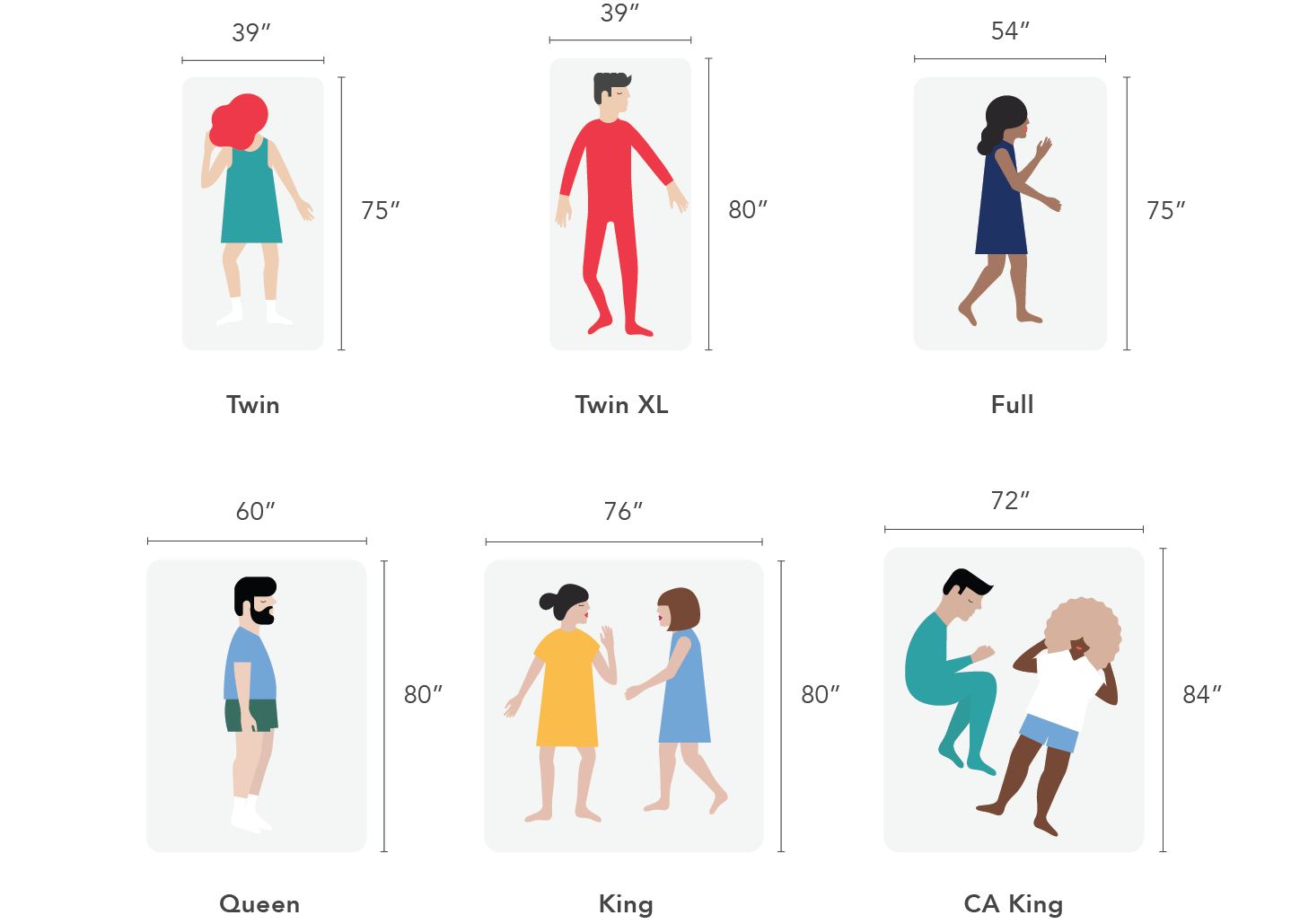 Benefits of Twin XL Beds
Twin XL mattresses, like the standard Twin, are a popular choice for many people based on their size and versatility. Below, we'll go through some of the common benefits of purchasing a Twin XL mattress.
•

More legroom - Compared to the standard Twin, Twin XL mattresses give you more space to stretch out. They add 5 extra inches of legroom, which doesn't seem like much, but can go a long way for adult single sleepers.

•

Versatile - The best thing about Twin XL beds is their versatility. They can fit in almost any room size, including tight college dorms or even bunk beds. They also are large enough to give tall people enough room to spread out.

•

Good for adults - Many adults might find the standard Twin a little restricting. The Twin XL was created with adults in mind, especially those who have limited space in their sleeping area.

•

Compact - Twin XLs are a good solution for studio apartments and other living spaces with limited square footage. They won't eat up space the way a Full, Queen or King would.
Alternatives to Twin XL Size Mattresses
Like we said above, the main alternative to a Twin XL is the Twin size mattress, but there are definitely other alternatives. Full-size mattresses measure 54 inches wide by 75 inches long. While you're losing out on that extra legroom, the larger size of a Full bed can accommodate two people comfortably if they're into snuggling up.
Queen size and King size beds are quite a bit larger and are usually reserved for master bedrooms or sleeping areas with a bit more space. And though, the Twin XL can support an adult, many single sleepers opt for the extra width these alternatives provide.
FAQs About Twin XL Beds
What is the difference between Twin and Twin XL mattresses?
The main difference is the extra leg room. Standard Twin beds measure 39 by 75 inches, while Twin XL mattresses measure 39 by 80 inches. A popular mattress type for single adults and taller sleepers who are looking for an extra long mattress. The regular Twin size single bed is better for young children or constricted sleeping spaces.
Can you put a Twin XL mattress on a Twin frame?
It really depends on the construction of the bed frame. However, it is advisable to purchase the appropriate size frame for your Twin XL mattress, especially if you're buying it new.
Do 2 Twin XL mattresses make a King bed or split king?
Standard size Twin XL dimensions are 38 by 80 inches. A standard King measures 76 by 80 inches. Technically, combing the two Twin XL mattress dimensions will give you a King size mattress or even a split king. This is not ideal, though, and you're better off buying a King mattress or a bed constructed to be a split king.
Where should I get a Twin XL mattress?
Most major retailers offer a Twin XL mattress. You should do your research and find out which one is best for your sleeping preferences. One way we try to match customers with the best mattress for them at Helix is through our Sleep Quiz. Basically, you answer some simple questions about your sleep life and we'll match you up with your ideal mattress. You can try it here.
Other Mattress Sizes Explained
If you're reading this, you're probably considering trying out a Twin XL or comparing it with other mattress sizes. We made one of these guides for each standard mattress size, and suggest reading through each that will fit your situation. Check them out below.