King or Queen? Tips for Getting it Right
Sometimes, it can seem impossible to find the right mattress size for your master bedroom. You may want a larger bed in your room, but your room size is just a tad too small for King-size mattress.
If that is the case, a queen size mattress may be the best new bed for you. A queen-size bed is one of the most popular mattress sizes as it can accommodate couples and single sleepers comfortably with extra width.
So is a queen size mattress the perfect match for your personal preference? Let's find out: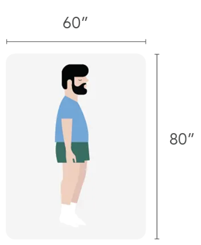 Queen Size Mattress Dimensions
Queen size mattresses are in the middle ground between double mattress / full size mattress and king size mattress sizes.
The standard Queen bed dimensions are 60 inches wide and 80 inches long, though there can sometimes be small differences between brands. Helix Sleep's Queen size mattresses comply with standard Queen sizes.
An Olympic Queen size mattress measures 66 by 80 inches, providing more room for couples to sleep. The California Queen adds an extra 4 inches of length and is a good choice for taller individuals.
To find out if a Queen size bed is right for you, we must first explore all of the different mattress options. Let's take a look at the other mattress dimensions.
Comparing Queen Size Mattresses to Other Standard Mattress Sizes
California King Mattresses
The California King bed is a common alternative to a Queen size mattress. At 72 inches wide and 84 inches long, California King mattresses are 4 inches longer and 12 inches wider than a Queen. When a King-size bed is too large and a Queen is too small, a California King size bed could be the best mattress for you.
King Size Mattresses
The King size bed dimensions are 16 inches wider than the Queen size mattresses. If your room size is slightly larger and a Queen doesn't quite fill the room, a standard King-size mattress should do the trick.
Full Size Mattresses/Double Size Beds
Queen size mattresses are nearly two feet wider than full beds or "doubles". If you don't have enough space for a Queen or King mattress, a Full-size mattress could be perfect for you. For tall people, a Full XL bed could be ideal. These mattresses are commonly used in guest bedrooms and dorm rooms.
Twin Size Mattresses
Twin beds typically are designed for teens or much smaller rooms. Like a Full XL, a Twin XL bed provides more length for tall people.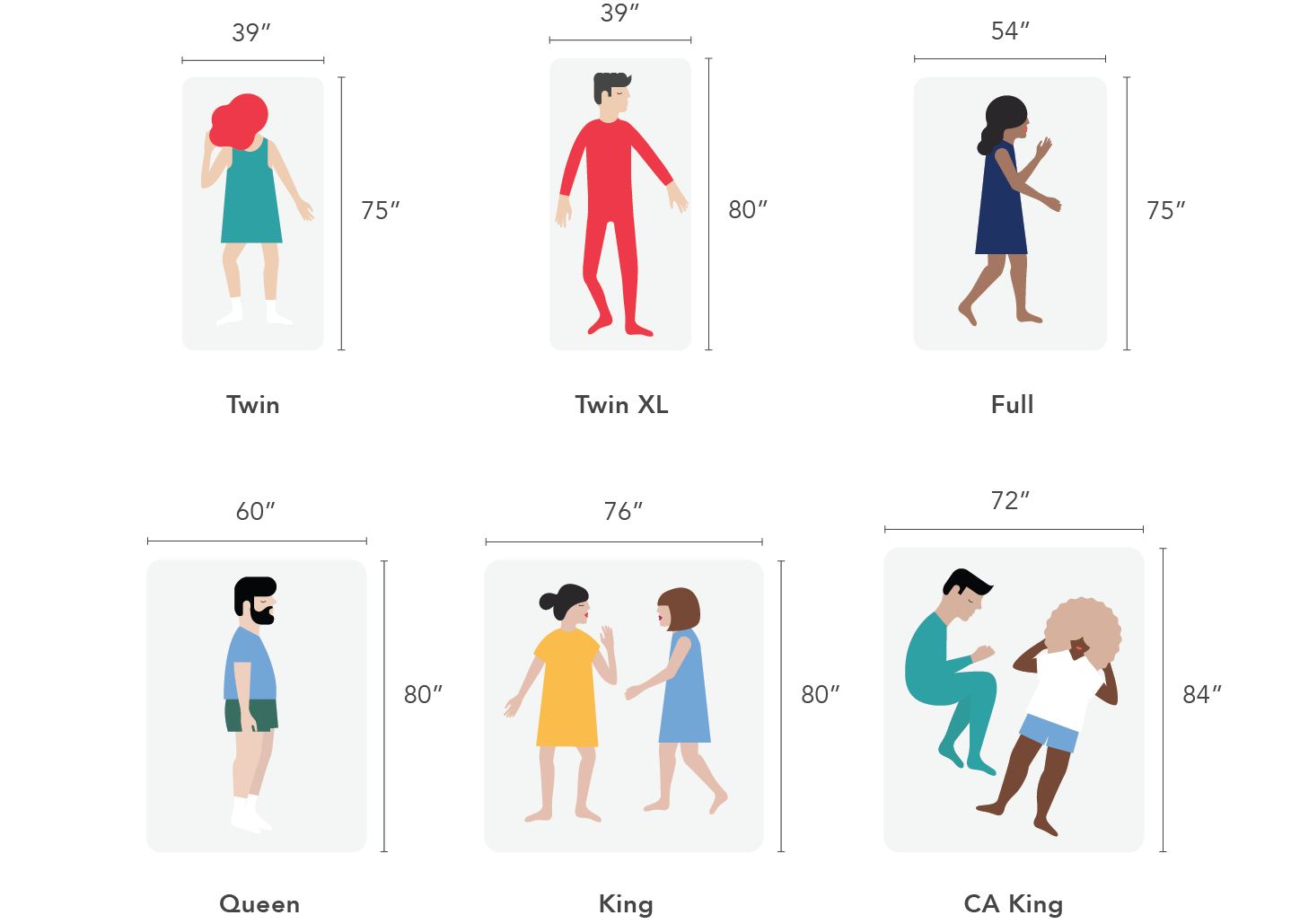 Why Helix Sleep Queen Beds?
Helix Sleep's Queen size mattresses have plenty of advantages when compared to alternatives, which is why it's the most popular mattress size in both the United States and Canada. Let's dive into the specifics of why so many people choose Queens.
•

Comfortable for two - Unlike the Full bed, which can be too cramped for two people, the Queen provides enough space for two people to sleep comfortably, even with a pet or two.

•

Spacious for one - One person sleeping in a Queen bed can really spread out and get cozy. It's pretty much the perfect bed for any single adult and well-suited for couples.

•

Extra Legroom - Queen beds provide 5 extra inches of legroom when compared with the standard Full. Tall people especially will choose that, even if they're single sleepers.


•

Versatile - Queen beds are big enough to support a master bedroom and small enough to fit in many guest rooms. They provide enough sleeping space for one or two people and can easily fit in most room sizes, even with a larger bed frame.
Alternatives to Queen Size Mattresses
Most comparisons will pit the Full size bed (or double bed), the King bed, and the Queen bed against each other. Full beds at 54 inches wide and 75 inches long are simply too small for many couples to be comfortable. King size and California Kings can be too large for many bedrooms.

If a Queen bed isn't your ideal, there are still some alternatives outside of these that don't involve buying Twin beds and making bunk beds. Some brands produce an "Olympic Queen" that gives sleepers an extra 6 inches of length. This however, is uncommon, and many brands don't have this offering, including Helix Sleep. If you're shopping for a Queen, you can consider bumping up to a King or downsizing to a Full.
FAQs About Queen Beds
Are all Queen mattresses the same size?
The standard size for Queen mattresses is 60 inches by 80 inches, however there can be some small differences between brands. It's best to check for specific measurements before you buy your new mattress.
How much bigger is a King size bed than a Queen?
A King size bed measures 76 inches wide by 80 inches long. So Kings are the same length, but 16 inches wider than a Queen. It's definitely a larger mattress. Many couples enjoy the extra space a King mattress provides or even the extra length you can get with a California King.
How many people can sleep in a Queen bed?
Queen beds typically support up to two people sleeping comfortably and a pet or two if you're so inclined. Single sleepers can spread out and take advantage of even more sleeping space.
Where should I get a Queen size mattress?
Given that it's the most popular mattress size, almost every mattress manufacturer makes a Queen. That doesn't mean you should just get any mattress, though. We recommend checking out Helix's selection and finding your perfect match by taking the Sleep Quiz.
Other Mattress Sizes Explained
If you're looking to get measurements for every mattress size, check out our mattress sizes page. Here, you'll find all the standard measurements to help pick your new mattress. If you're looking to learn more about sleeping positions, personal preferences, and how they affect your mattress choice, take the Helix Sleep Quiz.
Helix Sleep has also made guides to each type of mattress size. You can find the mattress size charts below: